Custom peptides synthesis
Custom peptides synthesis for Pre-GMP development
Space Peptides delivers custom peptides and peptide libraries at high quality, speedy timeline and in a cost-effective manner. Our custom synthesis capabilities apply to a broad range of peptides, including challenging and difficult peptides such as those with very long sequences (~ 70 amino acids in length and above), complex structures (e.g., cyclic, bicyclic, tricyclic peptides, peptide dendrimers), custom modifications and conjugates.
We understand the importance of quality for your research and preclinical development. Most of our custom synthesis peptides delivered till date have a purity of >95%, at miligram (mg) to kilogram (kg) scale. Our standard analytical methods determine purity by HPLC and mass-spectrometry.
Custom peptide modifications
We perform a broad variety of peptide modification, some of these modifications include:
Lactam-bridged and Thioether-linked cyclic peptides
FRET Peptides
Stable isotope-labeled Peptides 
Stapled peptides
Cyclic Peptides (Mono-cyclic, bi-cyclic and tri-cyclic peptides)
Peptide Dendrimers
Lipidated Peptide Dendrimers
Conjugated peptides 
Fluorescent and Dye Labelled peptides
Cyclic peptides with multiple disulfide bonds
Peptide PEGylation 
Peptide Glycosylation, Phosphorylation and Sulfation
Peptides with Fluorescent amino acids
Peptide with Unnatural variants (unnatural amino acids and other building blocks)
Lipidated Peptides
Branched Peptides
N-Terminal and C-Terminal modified Peptides
Peptidomimetics
Long Hydrophobic Peptides
Peptide Libraries
Depsipeptides
Chemistry, Manufacturing, and Control (CMC) Services
We build long-term partnerships with our customers, providing CMC services from simple short peptides to the most complex peptidomimetics, across all stages of the drug development lifecycle. We advise on the most suitable peptide synthesis technologies suitable to your specific projects, including solid phase peptide synthesis (SPPS), liquid phase peptide synthesis (LPPS), or hybrid approaches. We also support your needs on scale-up processes and technology transfer. 
We provide a variety of CMC services such as:
Synthetic route design 
Process development
Process optimization
Process validation
Analytical method development
Analytical method quantification
Analytical method validation
Product Characterization
Identification of impurities
Stability programs
Scale up
Get a quote today!
100% satisfaction or money-back guarantee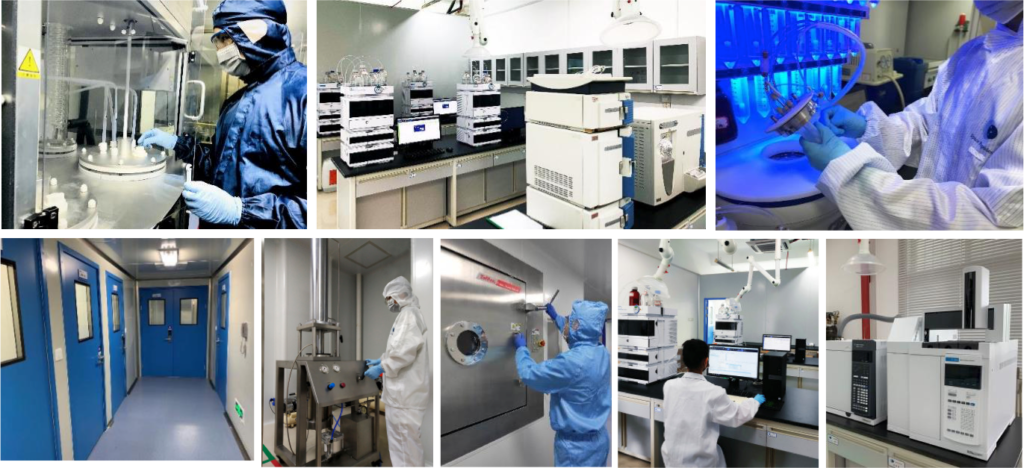 Figures: Space Peptides GMP pilot site in Xiamen, China, has obtained Chinese Food and Drug Administration (CFDA) certification and has a total capacity of 50kg/year.